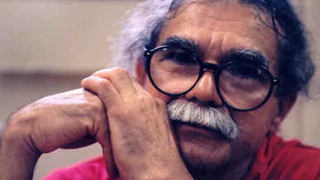 JUAN GONZÁLEZ: Over 100,000 people have signed a petition urging President Obama to pardon Puerto Rican independence activist Oscar López Rivera, who has been in prison for about 35 years, much of the time in solitary confinement. In 1981, López was convicted on federal charges, including seditious conspiracy—of conspiring to oppose U.S. authority over Puerto Rico by force. He was accused of being a member of the FALN, the Armed Forces of National Liberation, which claimed responsibility for more than a hundred bombings to call attention to the colonial case of Puerto Rico. In 1999, President Bill Clinton commuted the sentences of 16 members of the FALN, but López refused to accept the deal because it did not include two fellow activists, who have since been released. In a rare video recording from prison, Oscar López Rivera said the charges against him were strictly political.
OSCAR LÓPEZ RIVERA: I think that the fact that I was charged with seditious conspiracy to overthrow the government of the United States speaks for itself. But the charge in reference to Puerto Ricans has always been used for political purposes. It goes back to 1936. The first time that a group of Puerto Ricans was put in prison was by using the seditious conspiracy charge. And this is—has always been a strictly political charge used against Puerto Ricans.
AMY GOODMAN: Prominent supporters of Oscar López Rivera include Congressmembers Luis Gutiérrez, Nydia Velázquez and José Serrano, the musician Residente of the group Calle 13, and the mayor of San Juan. Nobel Peace laureates Mairead Maguire of Northern Ireland, Adolfo Pérez Esquivel of Argentina and Archbishop Desmond Tutu of South Africa have also supported his release. This is Archbishop Desmond Tutu.
DESMOND TUTU: After more than 30 years, Oscar López Rivera is imprisoned for the crime of seditious conspiracy, conspiring to free his people from the shackles of imperial injustice. Now is the time for his immediate and unconditional release. In working for reconciliation and peace, we once again feel compelled to repeat the biblical call of Isaiah to set free those who are bound. May God bless all of us in our efforts for justice with peace.
AMY GOODMAN: To talk more about the case of Oscar López Rivera, we're joined by two guests: still with us, Melissa Mark-Viverito, speaker of the New York City Council, and joining us from Chicago, José López Rivera, the executive director of the Puerto Rican Cultural Center in Chicago and brother of Oscar López Rivera.
We welcome you both to Democracy Now! José López Rivera, let's begin with you. If you can talk about what you're calling on President Obama to do for your brother Oscar?
JOSÉ LÓPEZ RIVERA: Well, we're calling on President Obama to release my brother. We're calling on him to live up to a legacy that he should leave for the Puerto Rican people, because it's not just about my brother's case, it is ultimately about the horrible colonial situation between Puerto Rico and the United States. What better legacy that he could give the Puerto Rican people, that he could give the emblematic figure of Puerto Rican unity, than to release my brother from prison?
JUAN GONZÁLEZ: And, José López Rivera, this is not an unusual situation, because President Jimmy Carter, in the late '70s, pardoned a group of nationalist Puerto Ricans that were in jail, as well as the pardons that President Clinton did before he went out of office. So it is not an unusual request, is it, in terms of from the Puerto Rican people to incarcerated fighters against colonialism?
JOSÉ LÓPEZ RIVERA: As a matter of fact, President Truman, in 1953, commuted the sentence, the death sentence, of Oscar Collazo. In 1979, President Carter released the nationalists. And in 1999, President Clinton released a whole group of Puerto Rican—Puerto Rican political prisoners. So there's a history here that dates back to the 1950s. And what better way to leave his presidency than to begin a process of reconciliation, as Bishop Desmond Tutu just said in his statement, a process of reconciliation to begin the healing process between the United States and Puerto Rico, than to release Oscar López Rivera?
AMY GOODMAN: Let's turn to Democratic Congressman Luis Guitérrez of Illinois speaking on the floor of the House five months ago.
REP. LUIS GUTIÉRREZ: Oscar López Rivrera is regarded as the last political prisoner from Puerto Rico that is still being held in a federal penitentiary. Oscar is a friend and a mentor. And at 73 years old, he is not beaten or broken or sad, as you can see by the smile on his face. Even after spending 35 years in jail, nearly half of his life, he is a hero to many people in Puerto Rico and throughout the Puerto Rican diaspora. It warms my heart that people from every walk of life now understand that the 35 years Oscar has served for crimes that were not violent is too long to be in jail. … It is now or never, and President Obama holds all the cards. We cannot allow Oscar to die in jail. Obama must commute his sentence.
AMY GOODMAN: That's Chicago Congressman Luis Gutiérrez. In fact, he was standing with a picture of him together with Oscar López Rivera, hashtag #FreeOscar. Melissa Mark-Viverito, you're the speaker of the New York City Council. You occupy a very high position in New York. You were just in Indiana—
SPEAKER MELISSA MARK–VIVERITO: Yes.
AMY GOODMAN: —the governor which is now the vice president-elect, Mike Pence, visiting Oscar López Rivera in Terre Haute, in the maximum-security prison there?
SPEAKER MELISSA MARK–VIVERITO: Yes, it was a visit with José, his brother, myself, Congressman Gutiérrez and his lawyer, as well. And it was a group. It was a way to really lend him some good spirits and morale during this time, as we're really fighting for his release. And, you know, as José—just to add on to what José says, you know, the Congressional Hispanic Caucus is supporting his release. We have national Hispanic organizations that have signed on. We have broad-based support, as just seen by the support of Desmond Tutu. President Jimmy Carter—former President Jimmy Carter just released a letter this week also asking and imploring Obama to do the right thing here. So there's a lot of support, over 110,000 signatures that were gathered. We have an event January 11th in front of the White House, where we will have 100,000 letters to give to President Obama. So, they're hearing it very strongly. And this is the right thing to do. It's a disproportionate sentence. And we are really, really—
AMY GOODMAN: And just to be clear—
SPEAKER MELISSA MARK–VIVERITO: Yes.
AMY GOODMAN: —he was already granted clemency by President Clinton.
SPEAKER MELISSA MARK–VIVERITO: Exactly, exactly. And I think that needs to be understood, that that already—the conditions were found favorable to offer him that clemency—right?—and that he should—the reason he did not accept it was because others were not part of that, right? And then, now, everyone is out, and he is the last one that is left.
AMY GOODMAN: So the people he was standing up for are now out.
SPEAKER MELISSA MARK–VIVERITO: Already out, exactly. And all the others that have—were granted clemency have reintegrated successfully—right?—in civic life. They're living in Chicago, living in Puerto Rico. And so, there is an example here to be set. And I think the process of reconciliation, as José alluded to, is really important at this time, where Puerto Rico is going through such a difficult time, and I think the level of assistance from the United States government has not been to our liking, at least to many of us. This is really a great opportunity for Obama to really leave a legacy of reconciliation for the Puerto Rican people. And we really stand strong.
JUAN GONZÁLEZ: Melissa, I'd like to ask you—you are—as the speaker of the New York City Council, the second most powerful post in city government, you've taken quite a bit of heat over this issue—
SPEAKER MELISSA MARK–VIVERITO: Yes, I have.
JUAN GONZÁLEZ: —of standing up for Oscar López Rivera. You were recently disinvited from a political fundraiser in Nevada, summarily, by the newly elected senator from Nevada. I'd like to talk about that kind of pressure, that you're supposedly supporting the freeing of a terrorist, as your critics say.
SPEAKER MELISSA MARK–VIVERITO: Well, obviously, that's the way it's being presented. And it's wrong in terms of the way it's being characterized. But, yes, I have an important—I want to utilize my position and the platform I have as a Puerto Rican elected official, and now as speaker, to really shed light on this injustice, not just on this issue, but on the debt crisis in Puerto Rico and other issues that are relevant—right?—to the island. And so I've used the platform to really speak on behalf of Oscar's release. And I've taken a lot of hits, not only in terms of being disinvited from a press—I'm sorry, a fundraiser, but also I've gotten a lot of hits on the press with regards to my position.
But I think that people are already starting to get it. We did a resolution out of the council supporting his release. And as I mentioned, there's such broad-based support that is—it can't be ignored, in terms of the voices that are coming out. It's a grave injustice. It's disproportionate in terms of the sentence, 35 years. He will be 74 years old on January 6th. We really need Oscar to be home and to be part of—to come back to his family and to his island. And just, you know, having visited him, one of the things that really moves me—and this is a very personal issue for me at this point—he is an incredibly strong person in spirit. And in light of all of this and having 12 years of solitary confinement, 35 years, going on 36 years, being imprisoned, you will never find someone stronger in spirit. And it is amazing. He is an amazing, amazing person.
AMY GOODMAN: So, finally, on this issue, José López Rivera, your brother, the kind of support you've had—I mean, Lin-Manuel Miranda, of course, the creator of Hamilton, many other celebrities, political officials, past presidents. What your final demand of President Obama is, and have you gotten word back from the White House?
JOSÉ LÓPEZ RIVERA: No, we have got no word from the White House. This is probably the most insular presidency that we've dealt with. I've been involved in campaigns to free Puerto Rican political prisoners since the '70s. I was involved in the campaign to free the nationalists under Carter and to free the other political prisoners under Clinton. And usually we get some idea months before that something positive is going to happen. With this presidency, nothing has ever—we've heard absolutely nothing.
I also want to just point out that, obviously, this has taken a toll on the family. As Melissa so wonderfully said, my brother is—from him emanates an incredible sense of peace, an incredible sense of justice and compassion. But this process has taken its toll on my family. My mother died almost 20 years ago from Alzheimer's. She was never able to see him or to touch him, because he was in solitary confinement in a prison that obviously was a control unit prison cell in Marion, Illinois. My sister passed away, my oldest sister, about seven years ago. So it's been a major toll. He's never been able to be with his granddaughter, who graduated from the University of Chicago, now is in dental school. He's never been able to be part of our lives for 35 years. So we think it's the right thing to do as a family.
We are very appreciative of the support that people have expressed, including presidents of Latin America, including the ex-president of Uruguay, President Mujica, who recently also made another statement about Oscar's release. So, we're grateful. We await the president's decision. And we hope that he makes the right decision in relationship to beginning this process of reconciliation to ultimately begin a real discussion about the decolonization of Puerto Rico.
JUAN GONZÁLEZ: I'd like to pivot for a second, Melissa, to ask you, in the last minute that we have, about the issue of sanctuary cities, now that we have President-elect Trump, who has definitely expressed his opposition to sanctuary cities. But New York City has taken a leading role, as have many—several other cities around the country, in saying that they're going to oppose attempts by Trump to end sanctuary cities.
SPEAKER MELISSA MARK–VIVERITO: Right, or to take resources away. But California, as a state, just passed the California Values Act—right?—talking about affirming the contributions of immigrants to the state and that they will do—provide resources for legal defense, etc. I've sent a similar letter to Governor Cuomo. Cuomo has been—our governor as well as our mayor have both expressed real interest in being supportive of our immigrant communities, as so—as have I. But we can do more as a state. And I would love to see us continue to push back against those efforts nationally. They're threatening to take resources away, that are threatening to be punitive to those of us that have incorporated and put forth policies and laws that are supportive of all members of our city, including our undocumented immigrants.
AMY GOODMAN: Just to be clear, Trump is calling for taking away federal monies—
SPEAKER MELISSA MARK–VIVERITO: Yes.
AMY GOODMAN: —from cities that are sanctuary cities—federal monies, of course, are tax dollars—but it wouldn't be taking away his tax dollars, because he doesn't pay taxes.
SPEAKER MELISSA MARK–VIVERITO: Exactly. Right, we still don't know about that. But, yes, it's being really punitive. And we sent—we passed a resolution in the New York City Council saying that we are proud to consider ourselves a sanctuary city and that we will continue to support the initiatives and the laws that we've put in place, and we'll push back against any effort to take anything away from us.
AMY GOODMAN: Well, we want to thank you—
SPEAKER MELISSA MARK–VIVERITO: Thank you.
AMY GOODMAN: —very much for being with us. Melissa Mark-Viverito is the speaker of the New York City Council, the first Latina and the first person of color to be the speaker of the New York City Council. José López Rivera, thanks so much for being with us—
JOSÉ LÓPEZ RIVERA: Thank you.
AMY GOODMAN: —from Chicago, the brother of Oscar López Rivera.
http://m.democracynow.org/stories/16947