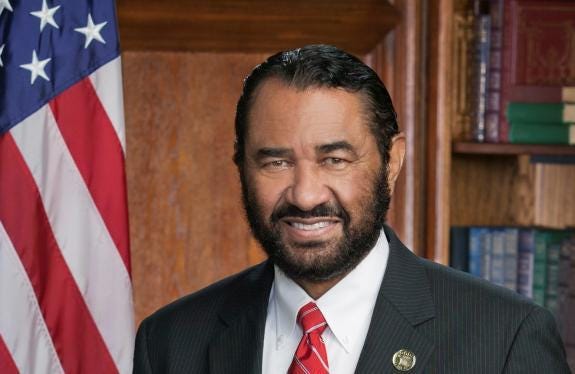 Al Green spoke out against US President, accusing him of 'obstruction of justice'
By Lucy Pasha-Robinson @lucypasha
Donald Trump supporters reportedly threatened to "lynch" an African-American politician who called for the US President to be impeached.
Democrat representative Al Green said he had been menaced with threatening phone calls after he took to the House floor to accuse Mr Trump of "obstruction of justice".
He reportedly played a number of voicemails that had been left by supporters of the Republican leader at a town hall meeting in Houston, but told the crowd he would not be deterred by the messages.
"We are not going to be intimidated. We are not going to allow this to cause us to deviate from what we believe to be the right thing to do and that is to proceed with the impeachment of President Trump," he said, according to the Houston Chronicle.
One caller reportedly threatened him with a racial slur before saying he would be "hanging from a tree" if he continues to push for Mr Trump's impeachment.
"When a person talks about lynching you, we think that's a pretty serious threat," Mr Green said.
Mr Green was the first member of congress to call for Mr Trump's impeachment on the House floor earlier this, citing the Republican leader's dismissal of FBI Director James Comey as one of the primary reasons.
"The President fired the FBI Director who was investigating him and said he did it because of the investigation," he said. "That's pretty serious. That's obstruction of justice. We believe no person is above the law, not even the President of the United States of America."
It comes as a source close to Mr Comey said the former FBI director is now convinced Mr Trump was trying to influence his investigation into Russian collusion in his presidential campaign.