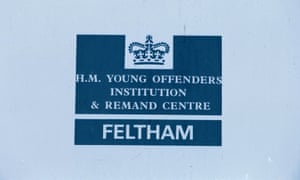 Judge says confinement was against prison rules but rejects claim that locking up boy, 16, for up to 23 hours a day was 'cruel, inhumane and degrading treatment'
By: Alan Travis
The high court has ruled that the "prolonged solitary confinement" of a 16-year-old boy at a west London young offenders' institution was against prison rules and amounted to a breach of his human rights.
But Mr Justice Ouseley said the boy, known legally only as AB, "is a very difficult person to manage" and repeated attempts by the YOI to integrate him failed. On this basis the judge rejected a claim that locking him up for up to 23 hours a day amounted to "cruel, inhumane and degrading treatment".
The judge did uphold a case brought by the Howard League for Penal Reform that the removal of the boy from association and the lack of educational provision for him at Feltham young offenders' institution amounted to an unlawful breach of his human rights.
The high court ruling on Tuesday said AB had a very difficult childhood, suffering emotional and physical abuse. By the time he arrived at Feltham he was on his third detention and training order. At his previous YOI, Cookham Wood, his abusive, aggressive and threatening behaviour to staff and inmates, including preparing a weapon and setting a fire, led to him being segregated for a large part of his time.
When he arrived at Feltham he was placed on "single unlock" – meaning he could not leave his room when other detainees were out of their cells. His history of violence against staff at Cookham Wood meant he was also on "three officer unlock" which meant three officers had to be present whenever he was removed from his room. A conviction for sexual assault and his abusive behaviour towards women meant he couldn't be left alone with a female member of staff.
The secretary for justice early on conceded that there had been a breach in his human rights: his removal for a total of 127 days from mixing with other inmates and from education had not been in accordance with the prison rules, as there were periods when the required authorisations were not in place.
The judge said, however, that he was satisfied that AB's removal from association was done for legitimate reasons, including protecting staff and other inmates. He said the alternative options, which were quite limited, were considered but rejected for sound reasons.
"They did try to reintegrate AB over time but failed because of his behaviour … I will make a declaration that the YOI rules on removal from association and on education were breached … because the interference with his rights was not in accordance with the law," said Ouseley.
Frances Crook, chief executive of the Howard League for Penal Reform, said:"This is an important judgment. The court has declared this boy's isolation for certain periods and the denial of adequate education unlawful because it was against prison rules. It is disappointing that the court stopped short of accepting that keeping AB in isolation for over 22 hours a day was degrading and inhuman treatment. We will be seeking to appeal this part of the ruling."